Flea Market
at apliu street
The Flea Market on Apliu Street is of course the main reason that visitors will come to our district. This famous attraction runs every day of the week, including weekends and public holidays.
Originally focusing on power tools and audio equipment, such as record players, the market has now grown to encompass a wide range of different products, but still with a technical focus and hardware.
You can still find second hand power tools for sale by street vendors, but the last stall selling collectable Vinyl Records has now moved off the street to a shop space/flat. Read more about Ah Pauls Records for details.
The street is one of the few official "Hawker Permitted" zones in Hong Kong where fixed pitched licensed hawkers are allow to sell their wares.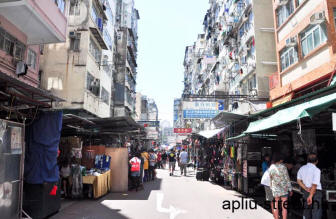 To encourage the market to operate safely the highways department has, since 2001, enforced a temporary pedestrian scheme which bans cars from the road between the hours of Noon and 9PM in the evening. Before this time vans and lorries deliver goods to the shops, and the roads are cleaned hence this is a bad time to visit the street.
The market runs until past 9PM most days, later on weekends, though after 10PM most visitors have gone.
An incredible array of different things can be found just from the stalls in the street. Some examples include:
Second hand laptop cases and camera backpacks
Key rings and Carabineer hooks in a range of colors and sizes
Audio cables
Electrical power cables and power bars
Power timer sockets
LED Torches
Travel alarm clocks
Cable or "zip" ties from the smallest to the largest
Mobile phone accessories including covers, head sets and chargers
Analog alarm clocks
Telephones
Batteries, including cell and watch batteries
Second hand electrical and mechanical devices including rice cookers, manual typewriters, vacuum cleaners, radios and fans
Second hand shoes and clothing
Stainless still cookware such as saucepans, frying pans and woks